Foods
Our Food Industry Expertise
With our broad knowledge and experience, we help our partners to adopt world-class processes and deliver authentic flavors to stay a step ahead of fast-changing consumer trends.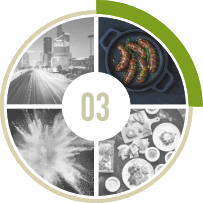 Processed Meats
Our technical sales team brings together global suppliers and domestic manufactures to ensure authentic manufacturing methods, recipes, and flavors. Whether through optimizing performance, improving quality yields, or supporting new product development, our solutions strengthen and extend our partner's market position.
Casings & Packaging
The primary food packaging industry emphasizes the need for production efficiency and high yield, all while considering product quality and food safety. Whether the need is for added color or flavor through functional casings, or using our domestic converting facility to customize fibrous casings, our team takes pride in delivering quality products and technical expertise to ensure safe, low cost and high quality solutions.
Flavors & Ingredients
With increased concern for health and food safety, producers struggle to improve yield, quality and efficiency while developing clean-label and allergen-free recipes. In addition, simple and reliable alternatives such as custom blends are increasingly desired due to rising demand for controlled manufacturing processes. Our strong relationship with global partners allows us to combine expertise in ingredients and casings to offer synergistic solutions to our customers.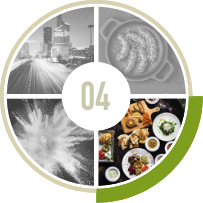 General Foods
With rapidly changing consumer tastes and lifestyle trends, we recognize the importance of delivering responsive and unique solutions to satisfy this dynamic market. We take pride in bringing new ideas and processes to keep our partners a step ahead of the competition.
Prepared Foods
With the busy modern day lifestyle, the need for fresh, tasty and safe grab-and-go food options are growing in demand. Our team relies on our global experiences to propose innovative product ideas using carefully selected ingredients from around the world.
Dairy Products
Our strength stems from the ability to relate and transfer knowledge from one industry to another. With extensive experience in casings established in the processed meats industry, we support our partners to explore creative and efficient cheese manufacturing solutions.
Snacks and Confectionery
With know-how cultivated in other food sectors, we adapt our experiences to develop novel concepts. Nothing is more fulfilling than developing a new snack with a new crunch or renewing an old favorite, and our technical sales team is excited to help partners with the fun.